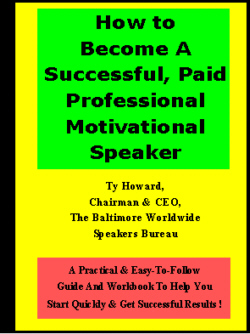 Order Now!
(This is a Downloadable eProduct.
All Sales Are Final.)


How to Become A Successful, Paid Professional Motivational Speaker
A Practical & Easy-To-Follow Guide And Workbook To Help You Start Quickly
And Get Successful Results.

Learn how YOU TOO can become a successful paid motivational speaker!
In this comprehensive guide and workbook you will learn an easy-to-follow step-by-step process on how to research, plan, setup, start and sustain your very own successful paid motivational speaking business.

This guide and workbook IS NOT filled with a bunch of theory and long-winded fluff pages just to keep you reading—it's packed with practical nuts-and-bults and easy-to-follow techinques, ideas, principles, strategies, how-to lists, personal exercises, sample marketing pieces...
and much more!

Chapters Include:

Table of Contents


Overview of the Motivational Speaking Industry
What It Takes For You to Get Started Successfully
Assessing Your Background & Experiences
Packaging Your Expertise
Figuring Out What to Speak On
Creating A Quality Motivational Speeches
Setting Up Your Website
Fees & Fees Schedules
Product Development & Pricing
Sample Contracts & Invoices
Setting Up Your Business Office
Administrative Office Forms & Needs
Marketing & Promoting Your Business
Myths & Lies About the Motivational Speaking Business
Seminars & Training for Continued Learning & Development
Over 100 pages of MUST Have information; including office forms and contract samples!
Order NOW—If You're Serious About Succeeding in the Motivational Speaking Business!!!
List Retail Price: $99.97 / USD

Your Sale Price Today: $69.95 / USD You Save $30.02 TODAY!

Click Here to Order Now!
(This is a Downloadable eProduct.
All eProduct Sales Are Final.)


( Product Sale Price Expires: Saturday, December 14th, 2013. )



---
Who Is Ty Howard?!
I'm Ty Howard, fulltime paid professional motivational speaker, and speakers bureau owner and operator. I've been a very successful professional motivational speaker for over 16 years. I've presented an average of 100 paid motivational presentations a year for each of those years.
For the first four years, I worked the youth and young adult market. This market put me on a nationwide circuit... in and out of middle schools, high schools, colleges and universities. I am now one of the TOP motivational speakers in the nation; speaking to associations, corporations, government agencies, colleges and youth.
If that doesn't speak volumes for my very successful track record, this will—I'm also the founder, Chairman and CEO of The Baltimore Worldwide Speakers Bureau, based in Baltimore, Maryland. Which means, not only does my successful staff recommend and book me as a highly sought after paid professional motivational speaker... my staff team of 4, recommends and books 100 other quality professional speakers, trainers, authors, celebrities, business leaders and facilitators... daily, worldwide.
My guide / workbook will help you to achieve similar results. It will put you and your motivational speaking business on track to becoming a very successful motivational speaker in the paid professional speaking industry. Invest in my guide / workbook today—and you WILL be glad you did!
Thank You for Your Time, Visit and Purchase... TODAY!
Best Wishes & Much Success,
Ty Howard,
Chairman & CEO

The Baltimore Worldwide Speakers Bureau

and

Dynamic International Motivational & Keynote Speaker
TyHoward.com


---
---
Ty Howard & InspiraGen Institute, LLC
6400 Baltimore National Pike
Suite 134
Baltimore, Maryland 21228
Phone: 1-443-982-7582



---
---
---
---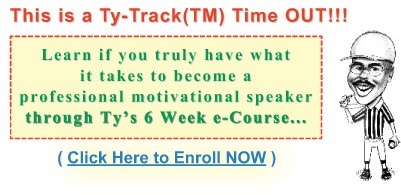 Another web browser window will open up for you with enrollment information.

---
---
Another National Best Selling Product by Ty Howard





Book Title: Untie the KnotsTM That Tie Up Your Life: A Practical Guide to Freeing Yourself From Toxic Habits, Choices, People, and Relationships

Type of Book: Self Help / Psychology / Advice / Empowerment / Relationships

ISBN: 978-0-9724040-0-6

Pages: 356 Price: $19.95 (US), plus $3.99 S&H

Online Web Special: $15.95 (US), plus $3.99 S&H

Publisher: Knots Free Publishing (Baltimore, Maryland)